"Prevention Is Always the Better Plan"

In health care, we are faced with hosts and sources of thousands of fungi, bacteria, and viruses. It is known that we have only identified 10% of microorganisms on earth as we are not able to grow them in culture. We can isolate their DNA and sequence it, but then comes the task of classification and determining the impact on health. ¹
Candida auris, a recently discovered pathogen in 2009, is an example of such an organism.
C. auris can cause bloodstream and other types of invasive infections, particularly in patients in hospitals and nursing homes and can spread through contact with affected patients and contaminated surfaces or equipment. More than 1 in 3 patients die within a month of being diagnosed with an invasive C. auris infection. It has a mortality rate of 22-57% in the US.
Recent CDC reports have documented clusters of C. auris in Nevada, Texas and Virginia. ²
Candida auris is difficult to detect and to eradicate once embedded in a facility. It can colonize on residents' skin, which may then shed — resulting in widespread surface contamination to staff, equipment and patient supplies. It can live on surfaces for at least 14 days. It is resistant to disinfection and is often resistant to the three classes of antifungals.
Fortunately, recent independent lab studies have shown that an Ultraviolet dosage ranging from 0.108 to 0.176 cm2/mJ can be used to deactivate C. auris. The model used did not reflect a dose beyond 99.9% inactivation and showed that C. auris needed 103-192mJ/cm2 compared to C. albicans of 78-80 mJ/cm2 for 99.9999% when logistic regression was applied. ³
Mobile Rapid Decontamination System Cabinets "RDS" from TMG Health Technologies deliver a proven UVC germicidal dosage that is double the required documented dosage of [103-192mJ/cm2 ] to achieve 99.9999% efficacy or a 6 Log₁₀ reduction in only 30 seconds.
Additionally, the company's latest and holistic disinfection solution combines hand hygiene and patient care equipment disinfection into a single platform that includes the facility's Hand Sanitizer, Gloves, Masks and Wipes mounted on the mobile Rapid Sanitation Station. The entire hand hygiene-and medical device disinfection process takes 30 seconds.
The Rapid Sanitation Station is mobilized throughout the clinical unit or shared between departments, waiting rooms, ICUs, surgical suites, etc. A simple protocol allows anyone in the space to use the technology with the assurance of efficacy. Think of the other unseen potential pathogens that are being killed even when not identified!
Applying a simple protocol, contaminated patient care equipment is placed in the RDS system, gloves are removed, hand hygiene is performed, hands are re-gloved, and items taken from RDS system with an assurance of effective disinfection.
No worries about meeting disinfectant contact time, missed areas, or generating waste. The RDS is a green technology with 100% effectiveness. A safe device protecting both our patients, visitors and healthcare workers.
How many Candida auris cases are there?
Although the CDC says C auris tracking updates have been delayed because of the COVID-19 pandemic, 948 clinical cases were reported from 19 states from May 1, 2020, to Apr 30, 2021, and screening identified 2,193 colonized patients. [27 Jul 2021] ⁴
How long does Candida Auris last on surfaces?
C. auris can survive on and be cultured from surfaces, both moist and dry, for at least 14 days (Piedrahita et al., 2017; Welsh et al., 2017). Additionally, C. auris has been cultured from contaminated bedding for up to 7 days (Biswal et al., 2017).12 [Apr 2018] ⁴
Can Candida live on clothing?
The answer depends on the species of Candida and the type of surface, a recent study found. Candida albicans and C. parapsilosis survived for at least 14 days on cotton fabric and on a cotton/polyester blend. ⁴
In the case that C. auris is already in your facility, check the CDC website for the most up-to-date guidance on identifying and managing C. auris: www.cdc.gov/fungal/candida-auris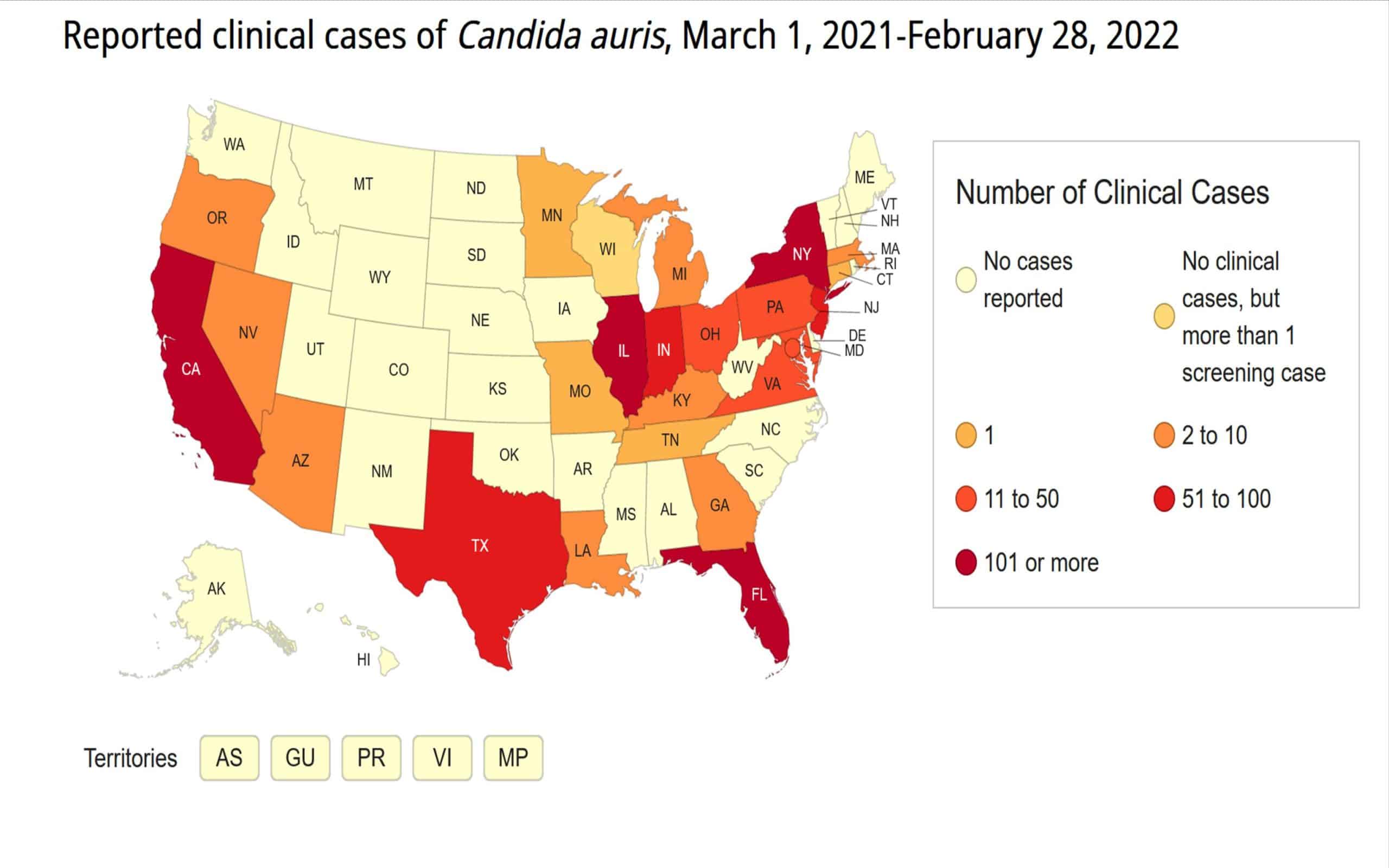 _________________________________________
Dr. Paxton has 45 plus years' experience in medical devices and Infectious disease consulting. Member of SHEA and ASM. Dr. Paxton specializes in studies for 510k submission and regulatory submissions, FDA liaison, design control and GMP and FDA inspection readiness. 30 years as an infection preventionist for acute care and LTAC's, Has extensive knowledge in disinfection and is an expert in Bio-Safety.
References:
1. Corresponding author. Address: Allergy and Clinical Immunology Branch, Health Effects Laboratory Division, National Institute for Occupational Safety and Health, Centers for Disease Control and Prevention, 1095 Willowdale Road, Morgantown, WV 26505, USA. Tel.: +1 304 285 6358. [email protected] (A.R. Lemons 2021].
2. https://www.cdc.gov/fungal/fungal-disease-reporting-table.html [2022]
3. Inactivation of the multi-drug-resistant pathogen Candida auris using ultraviolet germicidal irradiation / J Hosp Infect. Author manuscript; available in PMC 2021 October 10.
4. CDC.Gov Website: https://www.cdc.gov/fungal/candida-auris/index.html [2022]
Distributed with permission by TMG Health Technologies | www.tmghealthtech.com | 2022 All Rights Reserved